cresc... 2020 - HUMAN _MACHINE / Forum N | Harmonielehre
Bertramstraße 8
60320
Frankfurt am Main
Tickets from €19.00
Concessions available
Event organiser: Hessischer Rundfunk, Bertramstr. 8, 60320 Frankfurt am Main, Deutschland
Information on concessions
Ermäßigungen gelten für Schüler, Studierende (bis 27 Jahre), Auszubildende und Menschen mit Behinderung ab 80% GdB. Karten für Menschen mit Behinderung, Rollstuhlfahrer und Begleitpersonen bitte über 069 155 2000 buchen. Nachweise sind beim Einlass vorzuzeigen.

RMV-Kombiticket ist im Ticketpreis enthalten (außer bei Freikarten).
Event info
cresc… Biennale für aktuelle Musik
HARMONIELEHRE

hr-BIGBAND
hr-SINFONIEORCHESTER
EVE RISSER | Dirigentin

BALDUR BRÖNNIMANN | Dirigent
John Adams | Short Ride in a Fast Machine / Harmonielehre
Eve Risser | Neues Werk für Bigband (Auftragswerk des hr – Uraufführung)
Gavin Bryars | The Sinking of the Titanic
Matthew Herbert | Neues Werk für Ensemble (Auftragswerk des hr – Uraufführung)

HUMAN_MACHINE: Das Festival-Thema aufgreifend,
bietet das Konzert vielfältige Begegnungen:
zwischen Avantgarde und Jazz, Sinfonieorchester
und Bigband, Minimalismus und
klassischer Tradition. John Adams' »Harmonielehre
« spielt mit dem gleichnamigen Lehrbuch
Schönbergs, evoziert martialische Maschinenfantasien
wie mittelalterliche Mystikvisionen
und führt Techniken des Minimals mit der Welt
von Spätromantik und Impressionismus zusammen.
Ihr steht u.a. eine neue Bigband-
Komposition von Eve Risser gegenüber und ein
neues Werk des Jazz- und House-Produzenten
Matthew Herbert.

___________

HUMAN_MACHINE – The concert takes up the
theme of the Festival, offering a wide variety of
cross-border encounters: between avant-garde
and jazz, symphony orchestra and big band, minimalism
and classical tradition. »Harmonielehre«
by John Adams plays with the theoretical work by
Arnold Schönberg with the same title and evokes
both warlike mechanical fantasies and Mediaeval
mystical visions and combines techniques of
Minimal Music with the world of late Romanticism
and Impressionism. This stands vis-à-vis a new
big band composition by Eve Risser and a new
work by the Jazz and House producer Matthew
Herbert.
Location
Großer Sendesaal des Hessischen Rundfunks
Bertramstraße 8
60320 Frankfurt am Main
Germany
Plan route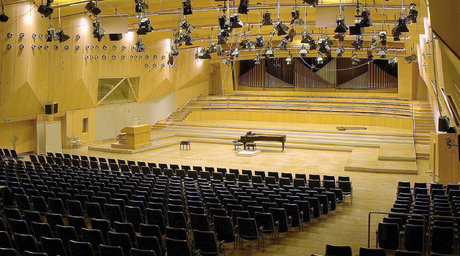 Von Klassik- und Jazzkonzerten, Kinderveranstaltungen, Kabarett, Previews, Lesungen und literarischen Gesprächen bis hin zum Deutschen Jazzfestival, Fastnachtssitzungen oder Fernsehübertragungen bietet der Sendesaal des Hessischen Rundfunks mit seinem Foyer Raum für die unterschiedlichsten Veranstaltungen. Die besondere Qualität des 1954 eingeweihten und 1987/88 komplett umgebauten hr-Sendesaals, der mit hellem Naturholz getäfelt ist, liegt nicht nur in seiner hervorragenden Akustik, sondern auch in seiner Multifunktionalität: Er ist Konzertsaal, Proberaum und modernes Tonstudio in einem, hier arbeitet das hr-Sinfonieorchester und gibt zahlreiche Konzerte, hier werden aber auch regelmäßig CD-Produktionen realisiert. An seiner Stirnseite verfügt der hr-Sendesaal über eine Konzert-Orgel. Der Publikumsbereich bietet bis zu 840 Sitzplätze.