EXPLOSIONS IN THE SKY - 20th Anniversary Tour
Barnerstraße 36
22765
Hamburg
Event organiser: target Concerts GmbH, Isabellastrasse 8, 80798 München, Deutschland
Event info
"Our band turns twenty years old this year and to celebrate we´re going to be playing some
shows this coming Fall. We hope to see some of you out there.
And thanks so much for sticking with us for so long. We truly appreciate it."
- Explosions in the Sky
Hailing from the sultry metropolitan landscape of Austin, TX, Explosions In The Sky are some of
the most sincere folks you will ever meet. Aside from being nice guys, they play some of the
most passionate, powerful instrumental music you will ever hear. Equal parts romance and
tragedy, their beautiful melodies have the tendency to ignite into head-spinning walls of noise.
Easily one of the most intense live bands ever, their sound proves to be every bit as triumphant
as their name implies.
Location
Fabrik Hamburg
Barnerstraße 36
22765 Hamburg
Germany
Plan route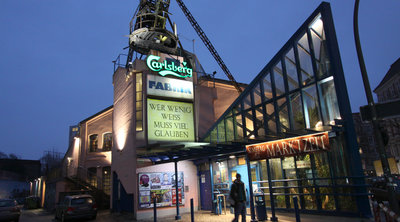 Das wohl bekannteste und älteste Kultur- und Kommunikationszentrum des Landes vereint die verschiedensten Kulturformen unter einem Dach: In der Fabrik Hamburg gibt es nicht nur Partys, Konzerte oder Theater, sondern auch Lesungen, Vorträge und offene Kinder- und Jugendarbeit.

In dem alten Maschinenfabrikgebäude aus der Gründerzeit hat die Fabrik eine ganz besondere Heimstätte gefunden. Der hohe, kirchenschiffartige Raum wird gesäumt von umlaufenden Galerien, die Holzträgerkonstruktion verbreitet einen ganz eigenen Charme und die Architektur ermöglicht von allen Seiten besten Blick auf das Geschehen unter dem hohen Glasdach. Tagsüber wird die Fabrik beherrscht vom regen Treiben vieler Kinder und Jugendlicher, die das breitgefächerte Freizeitangebot wahrnehmen: Hilfe jeder Art, Basteln, Kochen, Fotografie, hier ist fast alles möglich.

Musik, Theater, Diskussionen, Lesungen und Ausstellungen finden hauptsächlich abends ihre Bühne. So waren hier unter anderem schon Nina Simone, B.B. King, Candy Dulfer oder die Blues Brothers zu sehen. Das Konzept der Fabrik, Kultur und Kunst greifbar und erfahrbar zu machen, geht hier voll und ganz auf, der Andrang vor Veranstaltungen beweist das immer wieder aufs Neue.