Motörblast + Manomore - Double Headliner Tribute Show
Am Schlossplatz 9
76437
Rastatt
Event organiser: Ticket- und Konzertservice Rastatt, Kapellenstraße 20-22, 76437 Rastatt, Deutschland
Event info
Motörblast

Motörblast is concentrated Motörhead Power since 2006 !!

Motörblast is not only another coverband, they celebrate the music and show of Lemmy and his boys - in memory of the Motörhead frontman - in every detail!

Dr. Ape, our German "Lemmy", plays the same legendary bass sound !!
With his innate wart he looks like Lemmy´s twin.

CAUTION the likelihood of confusion is very high !!! "Is Lemmy resurrected?" Some will ask here!
The frontman has already been booked as a double at the Wacken Festival, where he presented the wine and beer assortment to the festive fans.

The guys´ setlist reads like a Greatest Hits Show and includes songs from the early Motörhead area (bombers), as well as the last rockers of the infernal trio.

Meanwhile Motörblast has become an institution in the matter of tributes to Motörhead.
Supported were internationally successful acts like JBO, Pro Pain, Motorjesus, Regner, Zakk Wylde and many more.

Well-known clubs such as the Colos Saal in Aschaffenburg, Z7 in Pratteln (Switzerland) and the Graspop Festival (Belgium) were also on the program.

MOTORBLAST is concentrated motorhead power at the highest level, an xtra class rock show.

MOTÖRBLAST are:
Dr. Ape – Lemmy (bass / vocals)
Dr. Overkill – Mikkey (drums)
H.P. Hammersmith – Phil (guitar / b.vocals)


Manomore:

Manomore – die Manowar Tribute Band aus Ungarn – wurde 2012 mit der Zielsetzung gegründet, die Musik von Manowar den Fans von True Heavy Metal zu übermitteln.

2014 gab es signifikante Änderungen im Line-up der Band.
Manomore besteht heute aus fünf begabten Musikern, die schon die Erfahrung von 10-17 Jahren auf der Bühne hinter sich haben.
Mit dieser starken Grundlage können sie die Songs von Manowar ohne Kompromisse vorstellen! Dies in einer Qualität, die den Königen des Heavy Metal würdig ist.
In den letzten 5 Jahren hat Manomore das in vielen Konzerten und 5 Ländern (Ungarn, Deutschland, Rumänien, die Slowakei und die Ukraine) immer wieder erwiesen. Die Band trägt ihr Show auf Open-Air-Festivals sowie in Hallen und Clubs vor.
Videos
Location
Reithalle Rastatt
Am Schlossplatz 9
76437 Rastatt
Germany
Plan route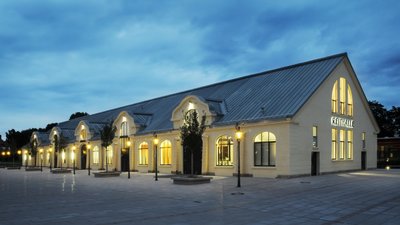 Die Reithalle Rastatt ist nicht, wie der Name zunächst vermuten ließe, Ort der Erfüllung zahlreicher Mädchenträume, sondern Bühne vieler hochkarätiger kultureller Veranstaltungen. Ausstellungen, Betriebsfeste, Kinovorstellungen oder Theaterbühnen finden hier Zugang und erfreuen seit 2008 kulturell interessierte Rastätter.

Nach umfangreichen Sanierungsarbeiten steht das denkmalgeschützte Gebäude seit 2008 für vielfältige Veranstaltungen zur Verfügung. Neben dem Kellertheater und der BadnerHalle ist Rastatt nun um einen kulturell wertvollen Ort reicher. Die Reithalle setzt sich zusammen aus dem Theater- und dem Bürgersaal. Der Theatersaal bietet Platz für bis zu 244 Zuschauer und ist die perfekte Location für Theater, Musik, Comedy und allerhand Vorträge. Mit der neuesten Technik ausgestattet und variabler Bühnengestaltung kann er dabei multifunktional eingesetzt werden.

Der Bürgersaal, der Platz für 328 Menschen bietet, verfügt über eine integrierte Küche und ist somit nicht nur für Vereinsaktivitäten, sondern auch für Betriebsfeiern, Ausstellungen oder private Feste bestens geeignet. Mit der besonderen Ausstrahlung und der perfekten Symbiose aus barocker Architektur und moderner Ausstattung bietet die Reithalle Rastatt die perfekte Kulisse für ein unvergessliches Event.