Pamela O'Neal and The Gospel Soul Notes
Spiegelgasse 9
65183
Wiesbaden
Event organiser: SoulFolks, Wiesbadener Landstraße 16, 65203 Wiesbaden, Deutschland
Information on concessions
Information für Rollstuhlfahrer: Location ist barrierefrei
Event info
"Pamela O'Neal and The Gospel Soul Notes" is a unique and original American gospel choir from the USA.

The Gospel Soul Notes offers only gospel of the finest quality with charm and wit of the old classics. For their performance, the singers wear the traditional robes that are typical for gospel music, and the singers impressively feel themselves in the souls of the slaves who sang these songs in the cotton fields

Pamela O´Neal gospel singer born in California had her roots traced back to Arkansas where her great-great-great-grandmother was a slave.
Pamela feels a strong connection to the spiritual songs and the reason the group sings songs like "Down by the Riverside", "Oh when the saints" and "Oh happy day".

If you like good old gospel from the 50s, 60s and 70s then "The Gospel Soul Notes" are the right choice for you.
_____________________________________________________________________________

"The Gospel Soul Notes" ist ein einzigartig und Orginal Amerikanischer Gospel Chor aus den USA.

The Gospel Soul Notes bietet nur Gospel der feinsten qualität mit charm und geistreicher art der alten Klassikern. Für ihren Auftritt tragen die Sänger die traditionellen Roben die typisch für Gospel sind und eindrucksvoll fühlen die Sänger sich in den Seelen der Sklaven die diese Lieder in den Baumwollfeldern sangen

Pamela O'Neal gospel Sängerin geboren in Kalifornien hat ihre Wurzeln zurück verfolgt nach Arkansas wo ihre Ur Ur Ur Grossmutter Sklavin war.
Pamela fühlt eine starke Verbindung zu den spirituellen Liedern und der Grund warum die Gruppe songs singt wie "Down by the Riverside", "Oh when the saints" und "Oh happy day".

Wenn sie guten alten Gospel von den 50er, 60er, und 70er Jahren mögen dann sind "The Gospel Soul Notes" für sie das Richtige.
Videos
Location
Theater im Pariser Hof
Spiegelgasse 9
65183 Wiesbaden
Germany
Plan route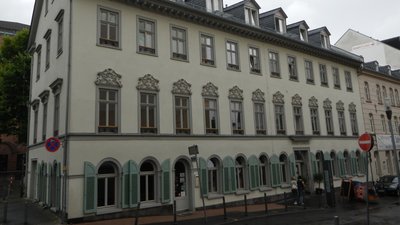 Das Theater im Pariser Hof ist ein ganz besonderer Ort im Herzen Wiesbadens. In den geschichtsträchtigen Räumen des alten Pariser Hofs wird seit Mai 2015 nach der Initiative des neu gegründeten Vereins "Theater im Pariser Hof e.V." wieder mit Enthusiasmus Theater betrieben und das kulturelle Leben Wiesbadens um ein großes Stück bereichert. Kabarett, Comedy, Lesungen, Chanson, Tanz und Kulinarik stehen auf dem Programm der Bühne für Kleinkunst und freies Theater und bieten somit bestimmt für jeden eine passende Veranstaltung.

1986 wurden die im Stil des phantastischen Realismus geschmückten Räume des Pariser Hofs zum ersten Mal für Theateraufführungen und andere kulturelle Veranstaltungen eröffnet. Seitdem standen hier schon Größen wie Georg Schramm und Thomas Reis auf der Bühne und haben für zahlreiche Lacher und gute Laune gesorgt. Das Programm des Hauses wurde 2004 mit dem Kulturpreis der Landeshauptstadt ausgezeichnet. Neben dem offiziellen Ablauf bietet das Theater auch immer wieder ein Forum für ortsansässige Künstler und auch als Location für die private Party, das Dienstjubiläum oder die Weihnachtsfeier können die traditionsreichen Räume genutzt werden.

Erleben Sie genussvolle Theaterabende zusammen mit der Besatzung des Hauses, deren Energie und Spaß auf jeden Fall ansteckt! Das Theater im Pariser Hof befindet sich in der bekannten Spiegelgasse im Zentrum Wiesbadens. Wir empfehlen Ihnen daher etwas außerhalb auf einem der zahlreichen P+R-Plätze zu parken und dann die regelmäßigen Busverbindungen der ESWE (u. a. Linie 1; 2; 8) in die Innenstadt zu nutzen oder in einem der umliegenden Parkhäuser zu parken.