Zu Ihrer Sicherheit und der weiteren Eindämmung des Coronavirus finden alle Veranstaltungen unter Einhaltung der gesetzlichen Vorschriften statt. Bitte beachten Sie die Hygienemaßnahmen vor Ort.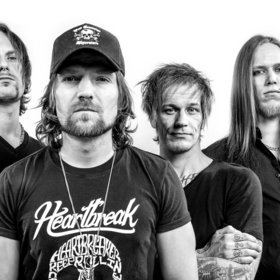 Rescheduled
Previous date:
The New Roses - Nothing But Wild Tour 2022
The New Roses &nbsp
Ernst-Frenzel-Str. 16
93083
Obertraubling
Event organiser:
Power Concerts GmbH, Kallmünzer Straße 16, 93133 Burglengenfeld, Deutschland
Event info
Auf den ersten Blick sieht die Band The New Roses aus wie eine klassische US-amerikanische Südstaatenrockband. Aber falsch gedacht: Die Jungs kommen aus Wiesbaden. Mit gutem alten Rock 'n' Roll, Rock und Hard Rock eroberte die Formation allerdings nicht nur ihr Heimatland im Sturm.

The New Roses wurden 2007 gegründet und tragen ihren derzeitigen Namen seit 2012. Ende desselben Jahres veröffentlichten sie ihre gleichnamige EP, ein Jahr später erschien ihr Debütalbum "Without A Trace", welches ihnen viele positive Kritiken aus dem In- und Ausland bescherte. Mit dem Nachfolger "Dead Man's Voice" kletterten die Rosen erstmals in die deutschen Charts. Nach und nach machte sich die Band hierzulande einen Namen, spielte als Vorband bei diversen Musikgrößen und streckte ihre Fühler langsam über die Grenzen der Heimat hinaus.

Musikalisch lehnen sich die Musiker von The New Roses an Vorbilder wie B.B. King, Guns N' Roses, AC/DC oder Bruce Springsteen an, kreieren aber ihren ganz eigenen Sound. Erlebt auch ihr die Ausnahmemusiker aus Hessen live und lasst euch von handgemachtem Rock begeistern!